Dreams Cherry 10/12
2 1/2 x 20 - Natural - Carton of 120
Strength: Mellow
Shape: Filtered Cigar
Size: 2 1/2 x 20
Country: Belgium
Color: Natural
Flavor: Cherry
Wrapper Origin: Homogenized
Wrapper Leaf: Homogenized
Dreams Cherry (12)
2 1/2 x 20 - Natural - Pack of 12
Strength: Mellow
Shape: Filtered Cigar
Size: 2 1/2 x 20
Country: Belgium
Color: Natural
Flavor: Cherry
Wrapper Origin: Homogenized
Wrapper Leaf: Homogenized
Dreams Cherry 10/12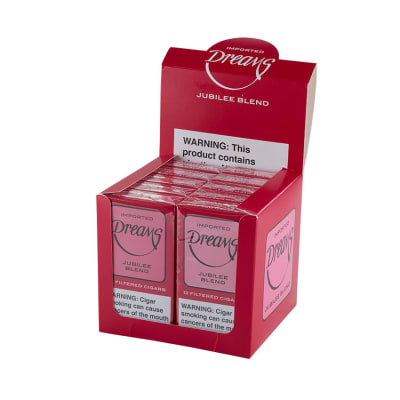 2 1/2 x 20 - Natural - Carton of 120
Strength: Mellow
Shape: Filtered Cigar
Size: 2 1/2 x 20
Country: Belgium
Color: Natural
Flavor: Cherry
Wrapper Origin: Homogenized
Wrapper Leaf: Homogenized
Recommended for you based on Dreams Cherry 10/12
I love these cigars
for Dreams Cherry 10/12
by Amy Wrobleski in MN on August 08, 2018
I ve gotten a few packs out of the cartons I ve ordered that had broken cigars in them. There was no evidence of damage to the packaging so I can only assume it was done during manufacturing. Expensive blunders for those who pay for them. Otherwise, selling is great and efficient.
... read more
Not as good as they used to be
for Dreams Cherry 10/12
by Rebecca in New York on March 23, 2017
I was very excited to see these available again after Obama s ban on flavored cigarettes. I was very disappointed. I know that changes had to be made to conform to the law, but they were nothing like they were. The smoke is hard, the taste is lacking without the cloves they once had, the only good thing I can say is that they did still have some sweetness on the tip. If you liked these in the past I suggest you buy Djarum Black Cherry instead, they are much closer to what you were missing.
... read more