Factory Smokes Sweet Toro
6 x 52 - Natural - Bundle of 20
Strength: Medium
Shape: Toro
Size: 6 x 52
Country: Nicaragua
Color: Natural
Flavor: Sweet Tip
Wrapper Origin: Not Available
Wrapper Leaf: Habano
Factory Smokes Sweet Toro
6 x 52 - Natural - Single
Strength: Medium
Shape: Toro
Size: 6 x 52
Country: Nicaragua
Color: Natural
Flavor: Sweet Tip
Wrapper Origin: Not Available
Wrapper Leaf: Habano
Factory Smokes Sweet Toro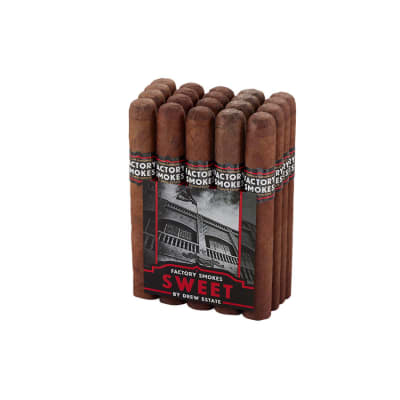 6 x 52 - Natural - Bundle of 20
Strength: Medium
Shape: Toro
Size: 6 x 52
Country: Nicaragua
Color: Natural
Flavor: Sweet Tip
Wrapper Origin: Not Available
Wrapper Leaf: Habano
Recommended for you based on Factory Smokes Sweet Toro
Excellent smoke at a great price.
for Factory Smokes Sweet Toro
by James Breidster in Osprey, FL on May 07, 2019
These cigars, from Drew Estate, are a top choice for me. I love the subtly sweet flavor and the easy draw. You would never know that these were a lower level product from the Acid family.
... read more
Good ciger
for Factory Smokes Sweet Toro
by Johnny b good in Stuart fl on January 06, 2019
It s a mild smoke very good sweet flavor for the price you can t beat it I always prefer Drew estate s over most cigars there quality is outstanding will definitely be buying more of these I tried a single one with my last order and was very satisfied if you like a my own good smoking cigar with low odor maybe good cigar for you it s really not far off from the big & Juicy
... read more
Not a bad cigar
for Factory Smokes Sweet Toro
by Jim Stroda in OR on November 19, 2018
I like a sweet cigar and these hit the spot. The only problem I have with them is getting an even burn on some of them.
... read more