Good Times Sweet Woods Sweet Aroma 6/5 Pack
4 1/4 x 30 - Natural - Pack of 30
Strength: Mellow
Shape: Cigarillo
Size: 4 1/4 x 30
Country: Dominican Republic
Color: Natural
Flavor: Sweet
Wrapper Origin: Connecticut
Wrapper Leaf: Connecticut Shade
Good Times Sweet Woods Sweet Aroma 5 pack
4 1/4 x 30 - Natural - Pack of 5
Strength: Mellow
Shape: Cigarillo
Size: 4 1/4 x 30
Country: Dominican Republic
Color: Natural
Flavor: Sweet
Wrapper Origin: Connecticut
Wrapper Leaf: Connecticut Shade
Good Times Sweet Woods Sweet Aroma 6/5 Pack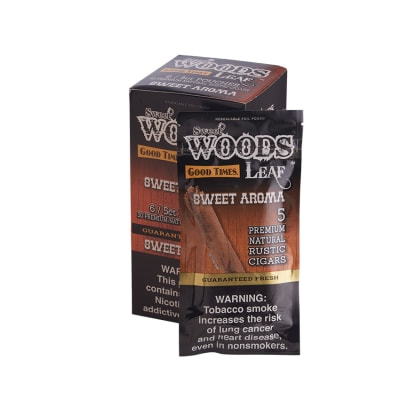 4 1/4 x 30 - Natural - Pack of 30
Strength: Mellow
Shape: Cigarillo
Size: 4 1/4 x 30
Country: Dominican Republic
Color: Natural
Flavor: Sweet
Wrapper Origin: Connecticut
Wrapper Leaf: Connecticut Shade
Recommended for you based on Good Times Sweet Woods Sweet Aroma 6/5 Pack
X
for Good Times Sweet Woods Sweet Aroma 6/5 Pack
by Namir Altaee in Virginia on January 04, 2019
Best
for Good Times Sweet Woods Sweet Aroma 6/5 Pack
by CHRIS SHELTON in Wisconsin on November 06, 2018
Love sweet woods
for Good Times Sweet Woods Sweet Aroma 6/5 Pack
by Tanga in North Philadelphia Pennsylvania on June 02, 2018
I love the woods sweet aromas. They used to be popular with alot of the corner papi stores around here now its like all the sweet woods have disappeared.. The papis are saying the company isnt making them anymore but lately after searching all of north philly ive found a guy that owns a deli who orders his by the case.. He started sellin me a box of 30 sweet wood wraps for 15$, being as tho it was 2 in a pack so it really was a pack of 15 which turned into 30.. After thinking about it ive decided to order me a few boxes and sell them in my neighborhood.. I guess the woods sweet aromas are so good and ppl are smoking them so fast that Good Times can t keep up..
... read more
Great everyday cigar for a great price.
for Good Times Sweet Woods Sweet Aroma 6/5 Pack
by Alex in Marietta, GA on May 01, 2017
I was smoking Backwoods cigars until I discovered Sweet Woods. These cigars are just as good, if not better and at a better price. I highly recommend these cigars for the everyday smoker.
... read more