Maroma Cafe Espresso Robusto
5 x 50 - Maduro - Box of 25
Strength: Mellow
Shape: Robusto
Size: 5 x 50
Country: Honduras
Color: Maduro
Flavor: Coffee
Wrapper Origin: Connecticut
Wrapper Leaf: Broadleaf
Maroma Cafe Espresso Robusto 5 Pack
5 x 50 - Maduro - Pack of 5
Strength: Mellow
Shape: Robusto
Size: 5 x 50
Country: Honduras
Color: Maduro
Flavor: Coffee
Wrapper Origin: Connecticut
Wrapper Leaf: Broadleaf
Maroma Cafe Espresso Robusto
5 x 50 - Maduro - Single
Strength: Mellow
Shape: Robusto
Size: 5 x 50
Country: Honduras
Color: Maduro
Flavor: Coffee
Wrapper Origin: Connecticut
Wrapper Leaf: Broadleaf
Maroma Cafe Espresso Robusto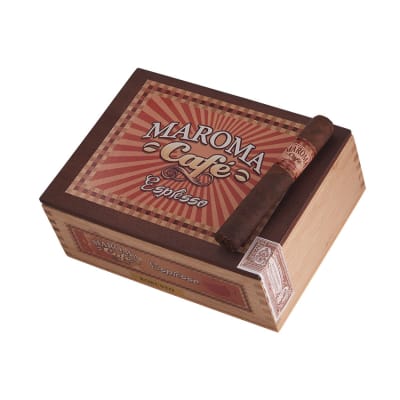 5 x 50 - Maduro - Box of 25
Strength: Mellow
Shape: Robusto
Size: 5 x 50
Country: Honduras
Color: Maduro
Flavor: Coffee
Wrapper Origin: Connecticut
Wrapper Leaf: Broadleaf
Recommended for you based on Maroma Cafe Espresso Robusto
Surprisingly Good!
for Maroma Cafe Espresso Robusto
by Paul Silva in 3575 Foxhaven Drive Gloucester VA on April 22, 2019
I ve smoked cigars for decades and these are better then expected for the price. Nice aroma and flavor, occasionally had to re-light but they aren t $12 each either. Great value for a infused cigar!
... read more
Good
for Maroma Cafe Espresso Robusto
by Bubba Jeter in Lagrange Ga on December 30, 2017
I m a cigar chewer. Excellent chewing cigar. Great flavor. Affordable.
... read more
Terrible
for Maroma Cafe Espresso Robusto
by David in Everett WA on August 03, 2016
I seldom write reviews, and, in fact, this is my first. These cigars are the worst I ve come across in the 15+ years I ve been smoking stogies. Not one out the box of 25 I received smoked in a reasonable fashion. The consistency, draw, burn and construction are all very poor. The Appearance is okay and the flavor is only tolerable. These were a coupon deal for me so at least there is that. It is possible I got a bad batch, but if all 25 were from a bad batch then that is bad QC. I caution anyone considering these as a buy.
... read more
Awful
for
Maroma Cafe Espresso Robusto
by Tom in Minneapolis, MN on August 23, 2016
Verified purchase
As the other reviewer said, these cigars are awful. The smell is nauseating and the taste is worse. I took them out of my humidor because they were polluting the other cigars. This cigar would be perfect for a stag party at a frat house.
... read more