Rough Rider Sweets Churchill
7 x 50 - Natural - Box of 25
Strength: Mellow
Shape: Churchill
Size: 7 x 50
Country: Dominican Republic
Color: Natural
Flavor: Sweet Tip
Wrapper Origin: Ecuadorian
Wrapper Leaf: Connecticut Shade
Rough Rider Sweets Churchill 5PK
7 x 50 - Natural - Pack of 5
Strength: Mellow
Shape: Churchill
Size: 7 x 50
Country: Dominican Republic
Color: Natural
Flavor: Sweet Tip
Wrapper Origin: Ecuadorian
Wrapper Leaf: Connecticut Shade
Rough Rider Sweets Churchill
7 x 50 - Natural - Single
Strength: Mellow
Shape: Churchill
Size: 7 x 50
Country: Dominican Republic
Color: Natural
Flavor: Sweet Tip
Wrapper Origin: Ecuadorian
Wrapper Leaf: Connecticut Shade
Rough Rider Sweets Churchill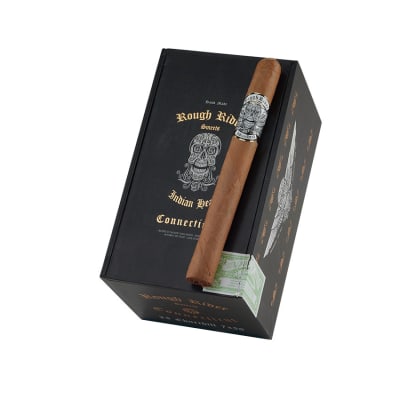 7 x 50 - Natural - Box of 25
Strength: Mellow
Shape: Churchill
Size: 7 x 50
Country: Dominican Republic
Color: Natural
Flavor: Sweet Tip
Wrapper Origin: Ecuadorian
Wrapper Leaf: Connecticut Shade
Recommended for you based on Rough Rider Sweets Churchill
Sweet and Mild
for Rough Rider Sweets Churchill
by Bill McQueen in Hudson, Florida on July 13, 2017
I really used to prefer a dark wrapper but this stick has my attention. The draw was smooth and the burn was even. The sweet tip makes the experience even more enjoyable.
... read more
Sweet cap,...BUT!
for Rough Rider Sweets Churchill
by Russell Flynn in Troutdale, OR. on September 27, 2017
Obviously the first thing I noticed with the cigar is the sweet cap. I didn t find the taste to be artificial.Being fairly new to Cigar smoking but having frequented the local cigar shop many times, I was searching for a stick I preferred enough to buy a box.I prefer a somewhat mild to medium mild cigar that doesn t stay with me for hours.In my youth I smoked Swisher Sweets. I was immediately brought back to that time with this cigar.At 60 my sweet tooth has subsided quite a bit, so had this stick continued with the initial sweetness I probably would not have liked it.That s where the but comes in. Roughly halfway down the sweetness subsided considerably. I must admit that I keep a fairly wet tip which is probably why.Aside from the sweetness, the draw is nice, as is the construction. Producing a long firm ash up to around 2 was no problem. I found the burn slow and even. As for pairings, I really enjoy this with my morning coffee, microbrew beer, and even a dirty Bombay Sapphire martini. I m sure it would pair well with others, but these are my main drinks. Surprisingly it did not fit well with a hard cider.In closing I would like to say I was surprised to find two somewhat negative reviews about this stick.My local cigar shop tells me they are flying off the shelf, and this is a very large well-stocked store with many choices.
... read more