Talon Filtered Cigars Menthol 10/20
3 7/8 x 24 - Natural - Carton of 200
Strength: Mellow
Shape: Filtered Cigar
Size: 3 7/8 x 24
Country: United States
Color: Natural
Flavor: Menthol
Wrapper Origin: Homogenized
Wrapper Leaf: Homogenized
Talon Filtered Cigars Menthol (20)
3 7/8 x 24 - Natural - Pack of 20
Strength: Mellow
Shape: Filtered Cigar
Size: 3 7/8 x 24
Country: United States
Color: Natural
Flavor: Menthol
Wrapper Origin: Homogenized
Wrapper Leaf: Homogenized
Talon Filtered Cigars Menthol 10/20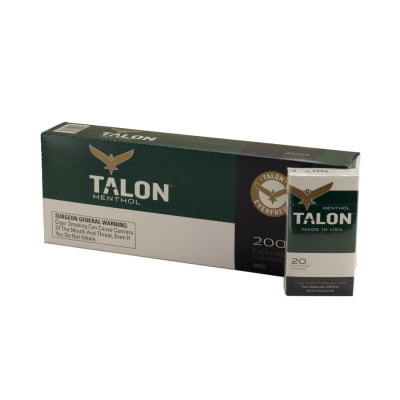 3 7/8 x 24 - Natural - Carton of 200
Strength: Mellow
Shape: Filtered Cigar
Size: 3 7/8 x 24
Country: United States
Color: Natural
Flavor: Menthol
Wrapper Origin: Homogenized
Wrapper Leaf: Homogenized
Recommended for you based on Talon Filtered Cigars Menthol 10/20
Great price just hard to find menthol
for Talon Filtered Cigars Menthol 10/20
by Thomas sendner in Denville new jersey on March 17, 2018
Cool...
for Talon Filtered Cigars Menthol 10/20
by William in GA on March 12, 2018
How do the two flavors work? Fairly well. The menthol is cool and the tobacco isn t overpowered by it. It will depend on how you draw, which makes me curious as to how much and where the menthol is applied in the manufacturing process. If you draw lightly and in the form of a natural inhale, it will be pleasant. If you take fuller draws, there will be some puffs with nearly absent menthol flavor.All in all, a very fair deal.
... read more