Tatiana Dolce Rum
4 3/4 x 30 - Natural - Box of 50
Description
Tatiana Dolce Rum cigars offer the best of both worlds: rich tobacco taste and the velvety, sweet island spice flavor of fine rum. Handmade and carefully blended with choice Cuban seed fillers, mild Indonesian wrappers, and aged two years to ensure a smooth, flavorful smoke. (Box of 50)
Strength: Mellow
Shape: Cigarillo
Size: 4 3/4 x 30
Country: Dominican Republic
Color: Natural
Flavor: Rum
Wrapper Origin: Indonesian
Wrapper Leaf: Sumatra
Tatiana Dolce Rum
4 3/4 x 30 - Natural - Single
Description
Tatiana Dolce Rum cigars offer the best of both worlds: rich tobacco taste and the velvety, sweet island spice flavor of fine rum. Handmade and carefully blended with choice Cuban seed fillers, mild Indonesian wrappers, and aged two years to ensure a smooth, flavorful smoke. (Box of 50)
Strength: Mellow
Shape: Cigarillo
Size: 4 3/4 x 30
Country: Dominican Republic
Color: Natural
Flavor: Rum
Wrapper Origin: Indonesian
Wrapper Leaf: Sumatra
Tatiana Dolce Rum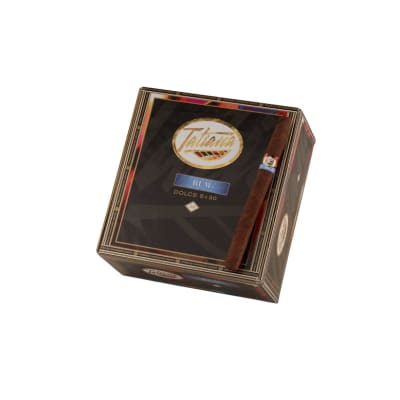 4 3/4 x 30 - Natural - Box of 50
Description
Tatiana Dolce Rum cigars offer the best of both worlds: rich tobacco taste and the velvety, sweet island spice flavor of fine rum. Handmade and carefully blended with choice Cuban seed fillers, mild Indonesian wrappers, and aged two years to ensure a smooth, flavorful smoke. (Box of 50)
Strength: Mellow
Shape: Cigarillo
Size: 4 3/4 x 30
Country: Dominican Republic
Color: Natural
Flavor: Rum
Wrapper Origin: Indonesian
Wrapper Leaf: Sumatra
Recommended for you based on Tatiana Dolce Rum
Very Enjoyable Smooth Smoke
for Tatiana Dolce Rum
by Robert in Oregon on October 23, 2018
The Tatiana Dolce Rum is a mild to medium smoke and the perfect size for an anytime enjoyable smoke. I love them and will order them again.
... read more
Great cigars
for Tatiana Dolce Rum
by Bob Underwood in Albuquerque, New Mexico on September 18, 2018
I ve ordered over a dozen boxes of these cigars. They are consistently packaged well with never a bad roll.
... read more