Tatiana Dolce Vanilla
4 3/4 x 30 - Natural - Box of 50
Strength: Mellow
Shape: Cigarillo
Size: 4 3/4 x 30
Country: Dominican Republic
Color: Natural
Flavor: Vanilla
Wrapper Origin: Indonesian
Wrapper Leaf: Sumatra
Tatiana Dolce Vanilla
4 3/4 x 30 - Natural - Single
Strength: Mellow
Shape: Cigarillo
Size: 4 3/4 x 30
Country: Dominican Republic
Color: Natural
Flavor: Vanilla
Wrapper Origin: Indonesian
Wrapper Leaf: Sumatra
Tatiana Dolce Vanilla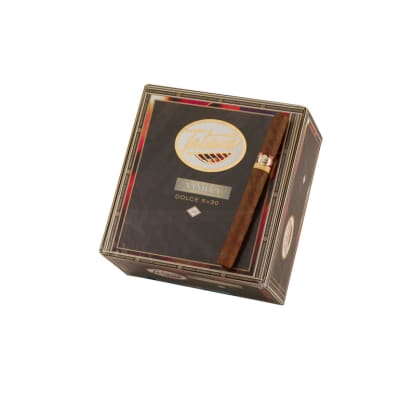 4 3/4 x 30 - Natural - Box of 50
Strength: Mellow
Shape: Cigarillo
Size: 4 3/4 x 30
Country: Dominican Republic
Color: Natural
Flavor: Vanilla
Wrapper Origin: Indonesian
Wrapper Leaf: Sumatra
Recommended for you based on Tatiana Dolce Vanilla
Great flavored cigar!
for Tatiana Dolce Vanilla
by Duane Martin in Inez, Texas on November 19, 2018
Tatiana makes the best flavored cigars. I love cherry and cinnamon also but vanilla is my favorite!
... read more
Perfection
for Tatiana Dolce Vanilla
by Aurelio in CA on July 20, 2012
Im used to the black and milds...they didn't taste like I thought they wouldBut these on the other hand are hand made and very VERY goodtastes amazingDraw is greatLooks greatSmells heavenlyGot mine at bevmo for 6.43 a popWell worth it!
... read more
Tatiana Dolce
for Tatiana Dolce Vanilla
by Joseph in Harrisburg on July 26, 2017
Tatiana Dolce cigars --- like very much the Vanilla, but the Rum is nice also. Surprised my non-smoking friends help themselves to these when ever they come over. Sadly though..........as they gain popularity - I will soon have to cease smoking them as the price is rising quite quickly. I thought the price was high already!Anyway, it was nice while it lasted.
... read more
awful
for
Tatiana Dolce Vanilla
by Salvatore in AZ on June 10, 2015
Verified purchase
it s billed as vanilla flavored. The only time I got a vanilla flavor is when i dipped it in vanilla extract.
... read more