Top Rated Mellow Pairing
Varies - Natural - Sampler of 10
Strength: Varies
Shape: Varies
Size: Varies
Country: Varies
Color: Natural
Flavor:
Wrapper Origin: Varies
Wrapper Leaf: Connecticut Shade
5 Baccarat Rothschild
5 RP American Market Robusto
Top Rated Mellow Pairing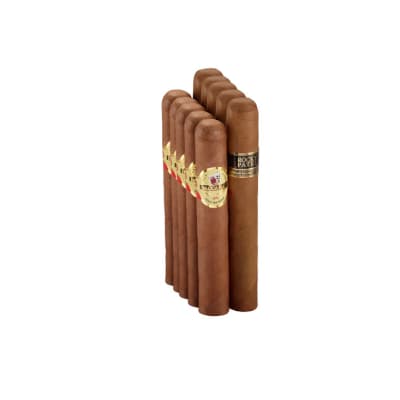 Varies - Natural - Sampler of 10
Strength: Varies
Shape: Varies
Size: Varies
Country: Varies
Color: Natural
Flavor:
Wrapper Origin: Varies
Wrapper Leaf: Connecticut Shade
Recommended for you based on Top Rated Mellow Pairing
Baccarat Rothschild
for Baccarat Rothschild
by Jeff in Massachusetts on July 10, 2019
Very mild good tasting cigar for the price. Will buy again
... read more
Like Butta
for Rocky Patel American Market Selection Robusto
by Anderbudd in Georgetown TX on November 04, 2018
Rocky?s deliver what they promise. One of my favorite things about this brand is that I know exactly what I am in for, just by reading the description. I got this cigar in a famous ?smooth like butta? sampler that featured Connecticut wrapped cigars from several manufacturers.Rocky makes two of my go to cigars, in the decade and vintage 1990, and I have yet to have a rocky that I do not love. This is no exception.If you are a fan of Connecticut?s, you will love this. It?s a mild cigar that burns flawlessly, like all Rocky?s, and is incredibly creamy, with a great smoke output. This robusto I have right now is pushing an hour of smoke time.It competes with the more expensive Avo and Ashton classics. Compared to those two, these have a slight bitter note on the finish, which adds to the complexity.I think that because Rocky puts out cigars in such abundance, they unfairly get the reputation of being a budget brand. I do have the expensive stuff in my humidor, and I think these compete well against my other mild smokes. This is another top shelf Rocky. I love the huge smoke output, flawless construction, and superb, smooth and lightly sweet flavor. This stick is awesome.
... read more
I?m reviewing baccarat . Rothschild
for Baccarat Rothschild
by joe benanti in Speonk on October 08, 2018
1 excellent mild smoke!! 2 great creamy and at peppery taste!! 3 highly recommend !!4 famous shipped it in gorgeous shape!!! 5 I?m smoking one as I right this !!! Buy em!!!
... read more
Well Done!
for Baccarat Rothschild
by DVW in Niles, MI on September 10, 2018
In all attributes, Baccarat Robusto is as quality of a mellow smoke as I have found. The smoothness and slightly sweetened cap make it a very satisfying smoke. A great cigar is one you find enjoyable!
... read more