Billions Palma Cappuccino
5 1/2 x 42 - Natural - Box of 55
Strength: Mellow
Shape: Corona
Size: 5 1/2 x 42
Country: Dominican Republic
Color: Natural
Flavor: Cappuccino
Wrapper Origin: Not Available
Wrapper Leaf: Undisclosed
Billions Palma Cappuccino
5 1/2 x 42 - Natural - Single
Strength: Mellow
Shape: Corona
Size: 5 1/2 x 42
Country: Dominican Republic
Color: Natural
Flavor: Cappuccino
Wrapper Origin: Not Available
Wrapper Leaf: Undisclosed
Billions Palma Cappuccino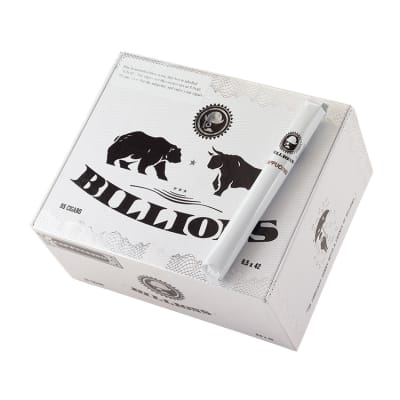 5 1/2 x 42 - Natural - Box of 55
Strength: Mellow
Shape: Corona
Size: 5 1/2 x 42
Country: Dominican Republic
Color: Natural
Flavor: Cappuccino
Wrapper Origin: Not Available
Wrapper Leaf: Undisclosed
Recommended for you based on Billions Palma Cappuccino
I found the whole smoking experience to be excellent.
for Billions Palma Cappuccino
by William Wynn in 4069 County RD. SE 4250 Mount Vernon, Texas 75457 on September 11, 2018
The overall texture of the cigar was remarkable! The taste was magnificent and they were very well constucted. I plan on re-ordering these for sure.
... read more
This is a great value.
for Billions Palma Cappuccino
by James Lukas in Oconomowoc, WI United States on November 20, 2018
It may look like a .73 machined cigar but it draws like an $17 cigar. The excellent consistency results in a great burn that provides a nice, non overwhelming taste.
... read more