Full Body 6 Pack No. 13
Varies - Varies - Sampler of 6
Strength: Full
Shape: Varies
Size: Varies
Country: Varies
Color: Varies
Flavor:
Wrapper Origin: Varies
Wrapper Leaf: Varies
2 Antano 1970 Gran Consul
2 Camacho Triple Maduro Robusto
2 601 Steel Girder
Full Body 6 Pack No. 13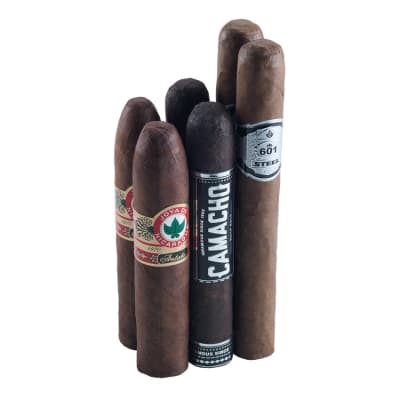 Varies - Varies - Sampler of 6
Strength: Full
Shape: Varies
Size: Varies
Country: Varies
Color: Varies
Flavor:
Wrapper Origin: Varies
Wrapper Leaf: Varies
Recommended for you based on Full Body 6 Pack No. 13
Awesomeness!!!
for Camacho Triple Maduro Robusto
by Robby Rated in St. Paul on May 07, 2019
This cigar excelled from light up to the nub. Great burn, good draw and excellent flavor the whole way through.I m a big fan of full flavor and the Triple Maduro delivers it in spades. If a full, rich smoke isn t your thing, this isn t your cigar. For those of us that that do, it s heaven!!!
... read more
Great draw, great balance of smooth, sweet and spicy
for 601 Steel Girder
by Matt S in Eureka, MO on December 29, 2018
I have really come to like the 601 steel line. This one and the robusto. After a few 10 packs of each only a few had maybe less great draw although still average compared to many tight rolled cigars but were still quite smoke-able and good. In general they have been very reliable and just awesome draw which I like. I never hesitate to grab one of these for a smoke; the price, taste, and consistency are a real pleasure. I keep exploring higher end smokes but these have become one of my baselines for comparing them all to.
... read more
Very nice cigar taste wonderful
for Joya de Nicaragua Antano 1970 Gran Consul
by Matthew Rho Gullett in Lexington , Ky on April 27, 2018
Very smooth and strong without the bite. Has a very smooth draw and taste marvelous.
... read more
Easily one of my favorite cigars
for Camacho Triple Maduro Robusto
by Stefan M in Raleigh, NC on April 17, 2018
This is a fantastic stick. I pick it up whenever it s on sale because it s a little rich for my blood but man oh man is this a great cigar. I love full-bodied sticks and this is as full-bodied as it gets. Smoke on an empty stomach if you dare. I like it as the last cigar of the evening and I know some people find it harsh but it s all about taking your time with it. Don t hotbox it and you ll be fine. Burns good and even with a pure white ash that will hold on to the nub if you let it. Someday I ll splurge on a full box but for now it s sadly the discount 5-packs for me.
... read more