Maroma Sorrel Robusto
5 x 50 - Natural - Jar of 20
$24.95

$47.00
On Sale - 47% OFF

(ends 07/30)
Strength: Mellow
Shape: Robusto
Size: 5 x 50
Country: Honduras
Color: Natural
Flavor: Chocolate
Wrapper Origin: Honduran
Wrapper Leaf: Connecticut Shade
Maroma Sorrel Robusto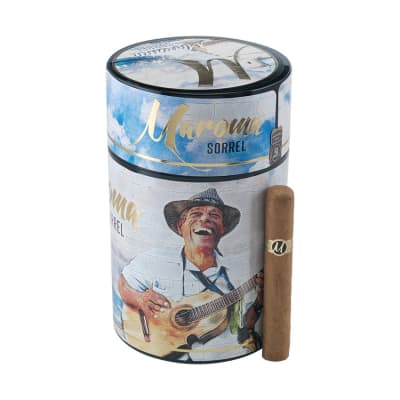 5 x 50 - Natural - Jar of 20
$24.95

$47.00
On Sale - 47% OFF

(ends 07/30)
Strength: Mellow
Shape: Robusto
Size: 5 x 50
Country: Honduras
Color: Natural
Flavor: Chocolate
Wrapper Origin: Honduran
Wrapper Leaf: Connecticut Shade
Recommended for you based on Maroma Sorrel Robusto
NICE FLAVOR-NICE PRICE-NICE EVERYDAY CIGAR
for Maroma Sorrel Robusto
by jerry in east fishkill on July 12, 2019
The Maroma Sorrel Robusto Cigars.
for Maroma Sorrel Robusto
by John O Warfield in Florida on October 15, 2018
I only ordered a five pack of these, because I wasn t sure I would like them. I really don t like to criticize anything, because everyone has different tastes and preferences. This cigar is listed as having a chocolate infused flavor. I personally didn t taste or smell chocolate, or if I did it wasn t for long.I do not want to deter anyone from trying these, because you may like them. I would like to clarify that I do LOVE the Maroma Dulce and the Maroma Tawny Cigars and have since purchased several boxes and canisters of both, so I am a fan of the MAROMA brand. It s just that I think they need to tweek the flavor on both the Cafe and the Sorrel Cigars. They could be fantastic with a small flavor adjustment by the company.Happy Smoking, J.O.W.
... read more
Surprisingly good
for Maroma Sorrel Robusto
by Duston Carley in TX on February 03, 2019
Surprisingly good smoke. inexpensive and elegant. Was not expecting the pleasant experience I had. Will buy again.
... read more
Price Advantage
for Maroma Sorrel Robusto
by Donald Rapposelli in Ohio on October 25, 2018