Maroma Tawny Toro
6 x 50 - Natural - Jar of 20
$26.95

$54.00
On Sale - 50% OFF

(ends 07/30)
Strength: Mellow
Shape: Toro
Size: 6 x 50
Country: Honduras
Color: Natural
Flavor: Caramel
Wrapper Origin: Honduran
Wrapper Leaf: Connecticut Shade
Maroma Tawny Toro
6 x 50 - Natural - Single
$1.95

$2.70
On Sale - 28% OFF

(ends 07/30)
Strength: Mellow
Shape: Toro
Size: 6 x 50
Country: Honduras
Color: Natural
Flavor: Caramel
Wrapper Origin: Honduran
Wrapper Leaf: Connecticut Shade
Maroma Tawny Toro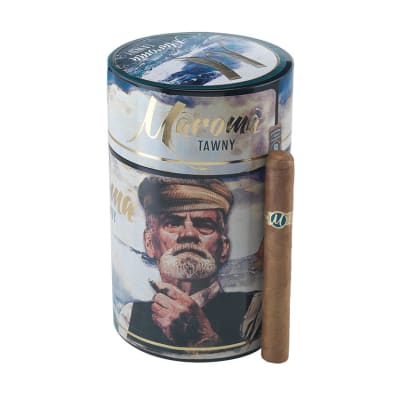 6 x 50 - Natural - Jar of 20
$26.95

$54.00
On Sale - 50% OFF

(ends 07/30)
Strength: Mellow
Shape: Toro
Size: 6 x 50
Country: Honduras
Color: Natural
Flavor: Caramel
Wrapper Origin: Honduran
Wrapper Leaf: Connecticut Shade
Recommended for you based on Maroma Tawny Toro
Smooth
for Maroma Tawny Toro
by Mandell Jackson in Florida on June 15, 2019
Nice draw. Beautiful taste. This is my first Maroma Tawny Toro . It won t be my last. This one s a keeper.
... read more
for the price a very good stick
for
Maroma Tawny Toro
by Jon in Arkansas on March 19, 2019
Verified purchase
the flavor to me is more creamy vanilla than caramel, but thats ok because i like both flavors. this is a good smoke for the fishing hole or the shooting range, or just working in the yard.
... read more
Will not be ordering this cigar again
for Maroma Tawny Toro
by Cal Amos in 95361 on May 24, 2019
Worst cigar I?ve ever purchased.Does not taste or smell like a cigar.
... read more